U3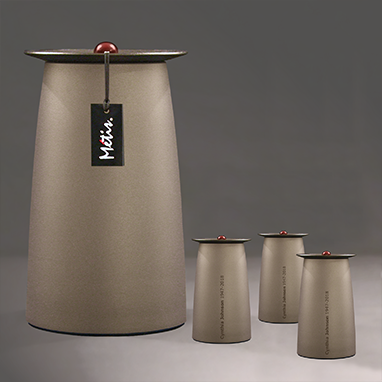 Technical Data

Material:

Aircraft aluminium, stainless steel and steel

Finish:
Dimensions:

Ø 149 by 260 mm (Ø 5 7/8 by 10 1/4 in.)

Capacity:
Weight:

Dimensions of the keepsake urn:

Ø 55.5 by 95 mm (Ø 2 3/16 by 3 3/4 in.)
Suggested retail price

Large size urn - 550.00 $
Keepsake urn - 150.00 $
Retailer may sell for less



You no longer need to send your urns for
engraving: with the U3 series one engraving
plate are included in a protective pouch.
Metallic Paint
· Light Bronze
Large size and keepsake urns
U3-900/P30/900/Ball-5
Direct engraving - Mechanical or laser
Engraving plate - Metal
Design Patent : CA 173361

Copyrights/or other intellectual property rights on all designs, logos, images, photos, texts, trade names, trade marks, etc., contained in this catalogue are reserved.

Métis Design & Culture reserves the right to amend any product specification without prior notice.